Selective Control of Fear Expression by Optogenetic Manipulation of the Infralimbic Cortex after Extinction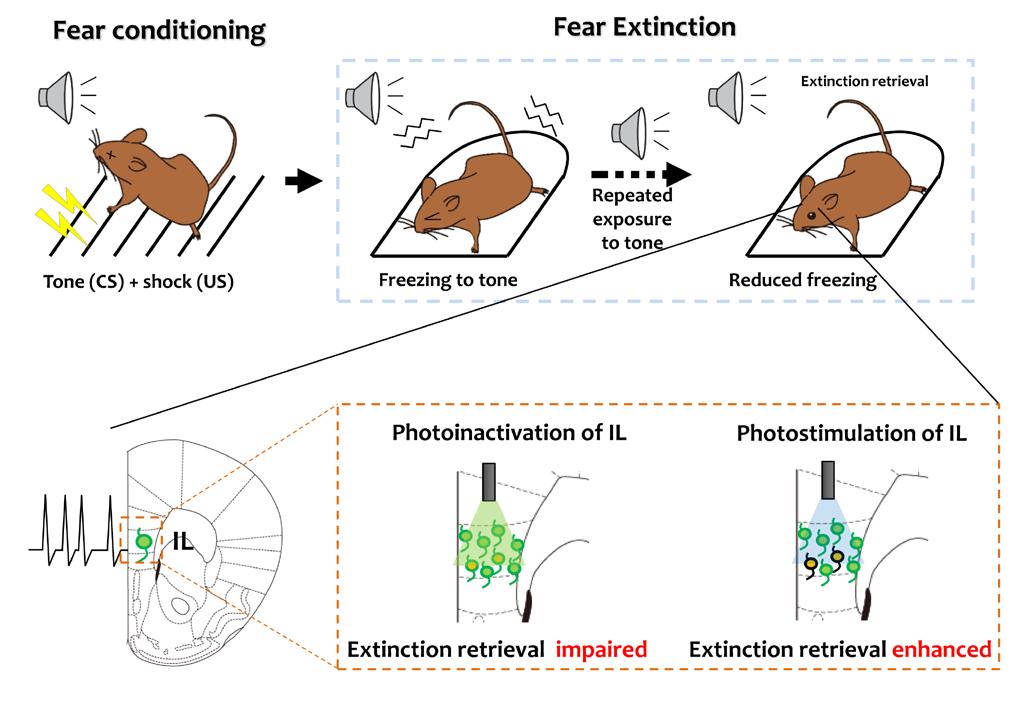 Groundwork laid for new anxiety disorder therapies by enhancing the retrieval of the extinction memories
"The emotion of fear is learned and remembered. If a person has experienced a horrifying event at a certain place, that person will experience fear again merely by revisiting that place. However, if that person goes to that place repetitively and finds that no more terrifying experiences occur, that fear will gradually diminish. This is a phenomenon called 'extinction', a process in which conditioned fear responses decline. This study attempted to find the mechanism of how fear memories can be controlled during the retrieval of extinction memories by controlling the expression of fear with the activated neurons inside the infralimbic cortex. This study is meaningful in that it laid the foundation for basic research on potential therapies for PTSD (Post-traumatic Stress Disorder) or anxiety disorder."
Mechanism discovered that acts as an 'On/Off switch' for fear memories during the extinction memory retrieval
Today, many people are suffering from anxiety disorder due to growing fears of terrorism and many other shocking events that threaten the mental health of human beings. Against this backdrop, 'extinction', a phenomenon where emotional memories such as fear are formed and then weakened, is getting a great deal of attention globally as a method of therapy for the anxiety disorder. The principles of extinction are now employed in the treatments provided in psychiatric clinics. However, the existing studies have not figured out yet that by what kind of mechanism the fear memories are controlled after the extinction.
Professor Han, Jin-Hee at the KAIST Institute for the BioCentury (KIB) and his team took one step forward by finding out 'Selective control of fear expression by optogenetic manipulation of infralimbic cortex after extinction.' By doing so, they laid the groundwork for developing new therapies for anxiety disorder, opening up the possibilities to enhance extinction memories or maintain them for a longer period of time.
While the infralimbic cortex, which sits in the medial prefrontal cortex, was known to play an important role, exactly what role it played in the process of the extinction memories expressed remained unidentified. Professor Han's team, however, found out that mechanism through tests on mice using optogenetics, a newly-developed field of science.
The optogenetics is a method to activate the proteins using the light stimulus of a particular wavelength, by allowing halorhodopsin (ion pump protein) or channelrhodopsin2 (ion channel protein) to be expressed in the desired neurons selectively. Through this method, it was confirmed that fear expression is controlled selectively by the neurons inside the infralimbic cortex only when an animal experiences the extinction. Based on this result, strong evidence was obtained showing that the activation of the neurons in the infralimbic cortex is important in the process of the extinction being expressed. It was also officially proven that the expression of fear memories can be selectively controlled via top-down control by the neurons in the infralimbic cortex only after extinction memories are learned.
The neural circuits where the fear conditioning memories are stored are closely related to metal disorders such as the anxiety disorder or depression. A study on how those memories are formed, controlled, and adjusted during the extinction process is meaningful, not only for its academic values, but also for the medical, social, and economical significance it holds. Professor Han and his team understood the neurobiological mechanism of formation and storage of memories, one of the most important themes in the field of neuroscience. And they took one step further by finding out the treatment for PTSD, anxiety disorder, and other types of mental disorders. The world is now paying attention to new opportunities for more effective therapies for the mental disorder.
Prof. Han, Jin-Hee
2015 Annual Report