Surfing the Brain with iWEBS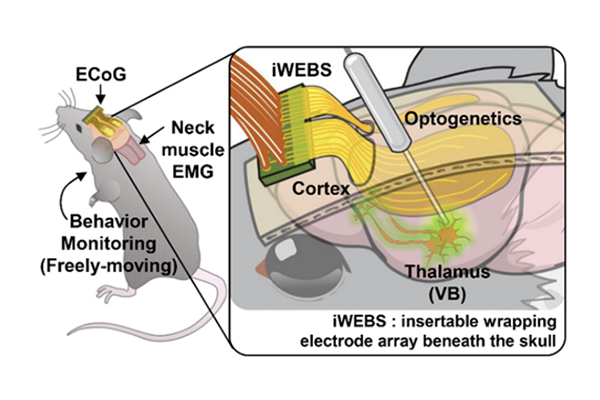 "A new technique called iWEBS enables activity monitoring across the entire brain surface using an insertable wrapping electrode array "
Activity monitoring across the entire surface of the brain with many folds and grooves has been a challenge in neuroscience. On February 23rd, 2016, a research team led by Professor Daesoo Kim at the Institute of Biocentury at Korea Advanced Institute of Science and Technology (KAIST) reported that they developed a flexible sheet of electrode array that wraps around the entire brain surface in ACS Nano (IF=12.882). This electrode, called insertable Wrapping Electrode array Beneath the Skull (iWEBS), can be inserted smoothly beneath the skull and attached to the brain cortical surface as shown in the figure below. Using the iWEBS system with optogenetic circuit mapping technology, the researchers have successfully uncovered how the brain makes long-range communication during various behavioral states from sleep to wakefulness.
Professor Daesoo Kim evaluated this work as one step forward towards monitoring all brain activities in high resolution during different behavioral states, and he emphasized its contribution to the diagnosis and cure of neurological disorders such as depression and Parkinson's disease. This work was supported by KAIST Institute's high-risk and high-return program designed to facilitate collaborative research within the campus. Professor Keon Jae Lee of the Department of Materials Science and Engineering at KAIST provided the cutting-edge technology to fabricate fine electrode arrays on a polyimide base for making iWEBS. He and Professor Daesoo Kim also have plans to add additional modules to iWEBS including LED photo stimulation and drug delivery.
Prof. Kim, Daesoo
2016-1 KAIST Matrix