3D Retina OCT Angiography System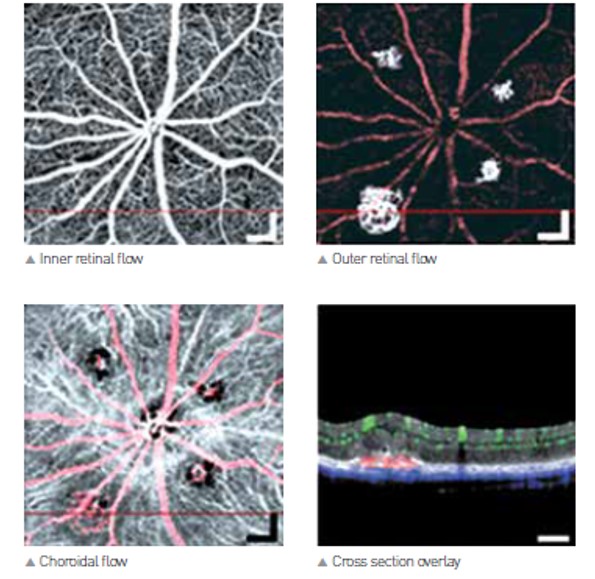 Development of the high-performance 3D microvasculature imaging system
OCT (Optical Coherence Tomography) is an imaging technology capable of high-resolution 3D imaging using light. Today, OCT technology is widely utilized in various medical researches and clinical situations primarily because it provides wide-field high-resolution imaging, which is not available from the conventional medical imaging devices such as CT, MRI, and ultrasound. In order to accurately diagnose and treat human retinal disease, understanding related diseases should be guaranteed.
It is also essential to have rigorous and repeatable experiments that verify the understanding of the disease, the usefulness and feasibility of the newly developed diagnostic and treatment methods. However, since these experiments cannot be directly performed on the patient, it is essential to develop animal disease models, obtain accurate understanding of the disease, and verify the effective treatment method developed through animal testing. Accordingly, it became necessary to develop a technology to study the 3D retinal microvasculature changes in animal disease models.
Prof. Oh and his team started the research with the recognition that there was no proper way to confirm these experiments and that previous studies had various limitations. Until recently, image analysis was conducted through histological studies at the expense of large number of small animals. In order to overcome the problems that come with understanding and developing treatment methods for eye diseases, the team developed a 3D imaging system that shows the retinal microvasculature and its changes over time in small animal disease models.
They also demonstrated the usefulness and effectiveness of the OCT angiography system that they developed by applying this system to small animal retinal disease models. Prof. Oh said, "Since 2012, all researchers engaged in this study have been fully dedicated to develop the system that has practical significance in conducting actual research from its early stage through close collaboration with Prof. Kyu Hyung Park and his team at SNU Bundang Hospital." He added, "This study is the result of persistent efforts by the researchers to develop a system that can provide crucial information through images in small animal retinal disease models confirming the progress and effects of treatment accurately and conveniently."
The researchers hope this study provides new methods and tools in retinal disease researches and development of new diagnostic and treatment methods for retinal diseases
In this study, the collaboration between research teams in KAIST and SNU Bundang Hospital from the early stages made it possible to develop a system that bears practical significance on on-site applications. The join of a post-doctoral researcher who has experience in retinal OCT development also spurred the research. Going forward, it is expected that identifying the cause of retinal disease can be more accurate and detailed in various retinal disease models of animals due to the OCT Angiography system developed by Prof. Oh and his team. This is because their system shows changes in the 3D retinal microvascular structure over time in a non-invasive way. This system is also expected to play an important role in the development of a system that can image medical devices related to eye diseases, including research on the progress of disease treatment and development of new drugs for retinal diseases. This research and the results of the study where the developed system was applied to CNV (choroidal neovascularization) disease in rodents have been recently published in Investigative Ophthalmology & Science (IIOVS), a world-renowned journal in the field of ophthalmology.
Prof. Oh, Wang-Yuhl
2016 Annual Report