Multi-device content synchronized play technology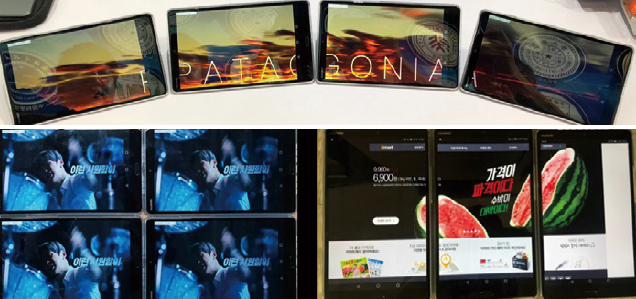 Media synchronization technique is essential for large-scale digital signage that consists of multiple devices, as human's eye feels it awkward even by a difference of 10 msec between screens. So these system utilize expensive hardware that ensures accurate synchronization between screens. Dr. Jung's team has developed a low-cost screen synchronization technique that could work with WiFi communication. Thanks to characteristic of wireless communication, this technique requires low installation cost and has advantages of free-form arrangement. As a result, this technique is expected to play a important role in expending digital signage business Eco-system.
Low-cost Digital Signage Synchronization Technique
Existing large-scale digital signage solutions require expensive hardware that ensure accurate synchronization between screens. As these hardware require wired environment, it only support limited screen arrangement and inter-screen distance. To overcome these limitations, Dr. Jung's team has developed low-cost wireless screen synchronization technology based on WiFi protocol. Screen synchronization through a wireless communication has several advantages such as free-form screen arrangement and low installation cost, but it is challenging to guarantee accurate synchronization as in a wired environment. To handle this issue, the team's research has focused on minimizing visual gap between screen within 10 msec and controlling real-time media stream. As a result of this project, the team constructed a test-bed that can test various configuration of screen arrangement, and successfully developed core synchronization technique, such as virtual screen group management technique, screen synchronization technique for wireless environment, and media delay correction technique. Based on these results, the team has demonstrated the large-scale digital signage solution that plays 8K high-resolution media streams through Smart China Expo 2018 and Korea Electronic Show 2018.
Promotion of digital signage Eco-system
Dr. Jung's media synchronization technique is expected to be attractive in the outdoor advertisement market, as it requires lower budget than existing solutions and could supports a variety of screen arrangement that could strengthen the expressiveness of advertisement. The team has transferred the initial achievement to several companies, and is in the process of developing technique that is suitable for large retail market and media art market under the support of Institute for Information & communications Technology Promotion (IITP) and Ministry of Science and ICT (MSIT). Another mission of this project is to support synchronization of real-time media sources such as theaters, so the team is also in the process of developing real-time media synchronization technique under the support of Institute for Commercialization Promotion Agency for R&D Outcomes. Future plans of this project include organization of technology portfolio and promotion of technology-based commercialization.
Sungkwan Jung
2018 KI Annual Report