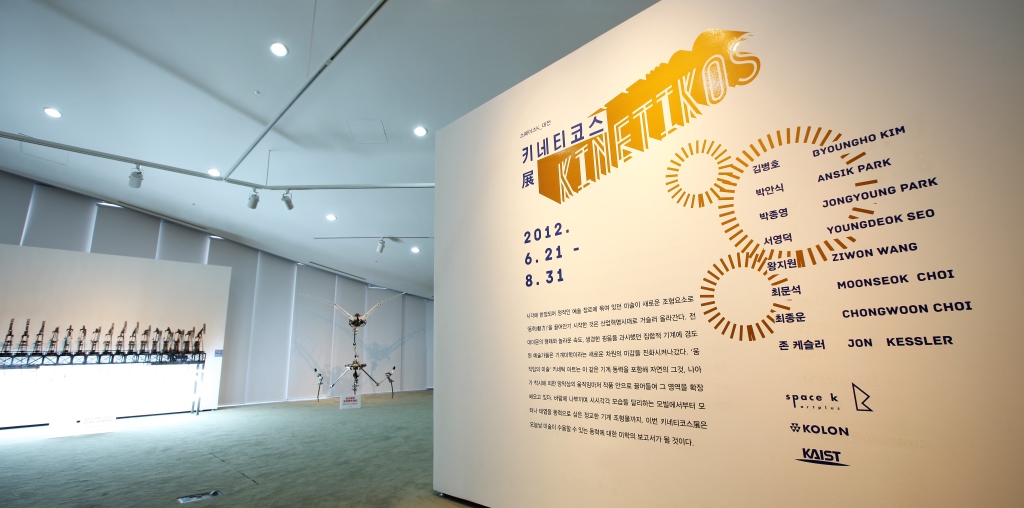 KAIST Institutes cordially invite you to the 2nd exhibition of space k, Kinetikos.
= Details =

● [Venue] space k_Daejeon (KI Building, KAIST)
● [Period] June 21, 2012 ~ August 31, 2012
● [Artists] Byoungho Kim, Ansik Park, Jongyoung Park, Youngdeok Seo, Ziwon Wang, Moonseok Choi, Chongwoon Choi, John Kessler
● [About the Exhibition]
The embracing of kinetics in art, instead of being confined to a visually static art form, can be traced to the industrial revolution. In awe of the astonishing speed and thunderous roar of machines, artists began to derive beauty from mechanical aesthetics. Kinetic art includes mechanical movement, and has been expanding its scope to nature and even retinal movement caused by optical illusions. From the changing scenes of a mobile in the wind to more precise motor-based machines, the Kinetikos Exhibition serves as a showcase for kinetic aesthetics in the art world today.
● [Link] http://www.spacek.co.kr/display/view.asp?refer=pass.asp&idx=21&p=1