Brain Cognitive Function Control



Neurodegenerative diseases and mental disorders cause critical impairment in essential brain functions such as learning & memory, emotion and other cognitive functions. Despite of great efforts, the underlying biological mechanisms remain elusive, and there have been no effective treatments. Therefore, our research team focuses on 1) understanding the molecular, cellular, and circuit level mechanisms underlying such brain functions in normal and diseases and 2) developing novel therapeutics to help restore impaired brain cognitive functions.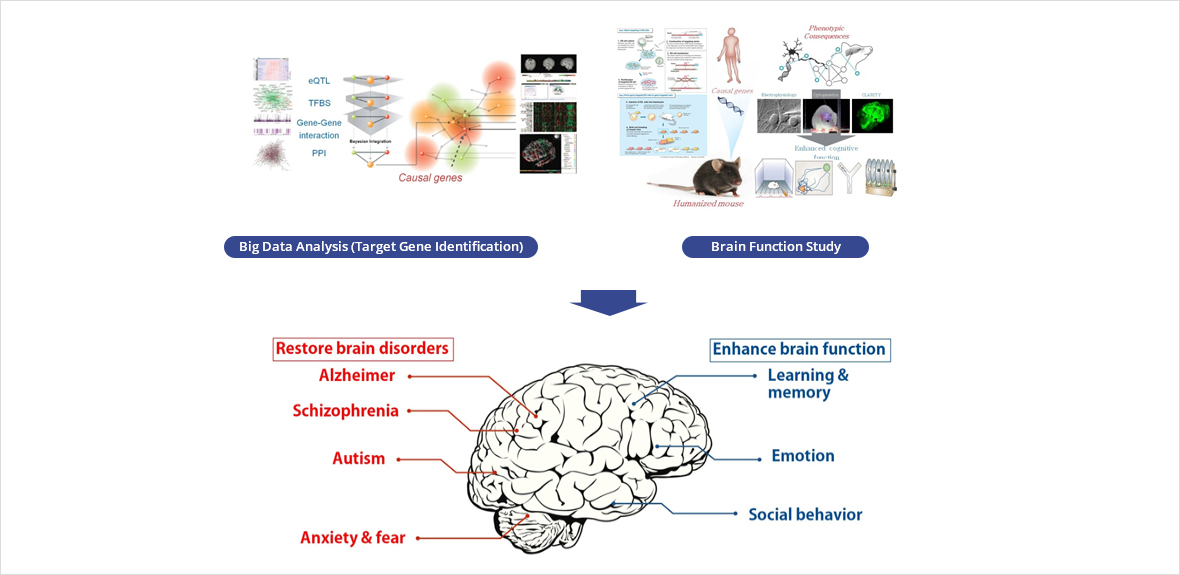 Research Topics
Memory Allocation in Complex Neural Network
In order to develop techniques for recovering impaired memory function found in neurodegenerative diseases, it is essential to understand where and how memory is encoded, stored in the brain. It is thought that memory is represented by a sparsely distributed, specific collection of neurons in the brain that forms a unique memory trace. Accordingly, only a portion of eligible neurons are recruited into a specific memory. In this project, we employ memory capture technique to track and manipulate memory engram cells for understanding memory allocation mechanism and memory engram dynamics.


Brain Control Mechanisms of Fear and Anxiety
Defining the precise role of neural circuits involved in the regulation of fear and anxiety is critical to understand and treat human fear and anxiety disorders such as post-traumatic stress disorder (PTSD). In this project, we aim to identify top-down neural circuit pathways controlling fear and anxiety and elucidate the underlying mechanisms that are directly relevant to human anxiety disorders.


Restoring Brain Cognitive Functions
Using mouse genetic models, here we focus on 1) understanding basic pathophysiology of neurodegenerative diseases such as Alzheimer's disease (AD) and Huntington's disease and 2) developing test platforms for candidate drug screening to develop effective therapeutic approaches. As an alternative approach, we use human paleogenomics big data analysis to search for novel ways for cognitive enhancement that can restore declined brain cognitive functions in aging and neurodegenerative diseases.
Key Technology
Target identification and validation
Optogenetics-based brain stimulation
Electrophysiological recording