Human Microbiome Control
People want their life last longer, however, how to live healthier life is much more important than to just live extended life with disease or disability. To maintain the healthy function of our body, we have to understand our second genome, the microbiome. Because the microbiome contains 5-8 millions of microbial genes compared to just 25,000 human genes, it enables human to defend against disease and to adapt to new environments providing us capabilities that are not encoded within our own genome. It is already known that microbiome pattern of each individual is different and the difference is also stands out between young and olds. To figure out correlation between microbiome pattern and aging process and further control the microbiome healthy, we are developing new analytical tools and next-generation therapeutic approaches.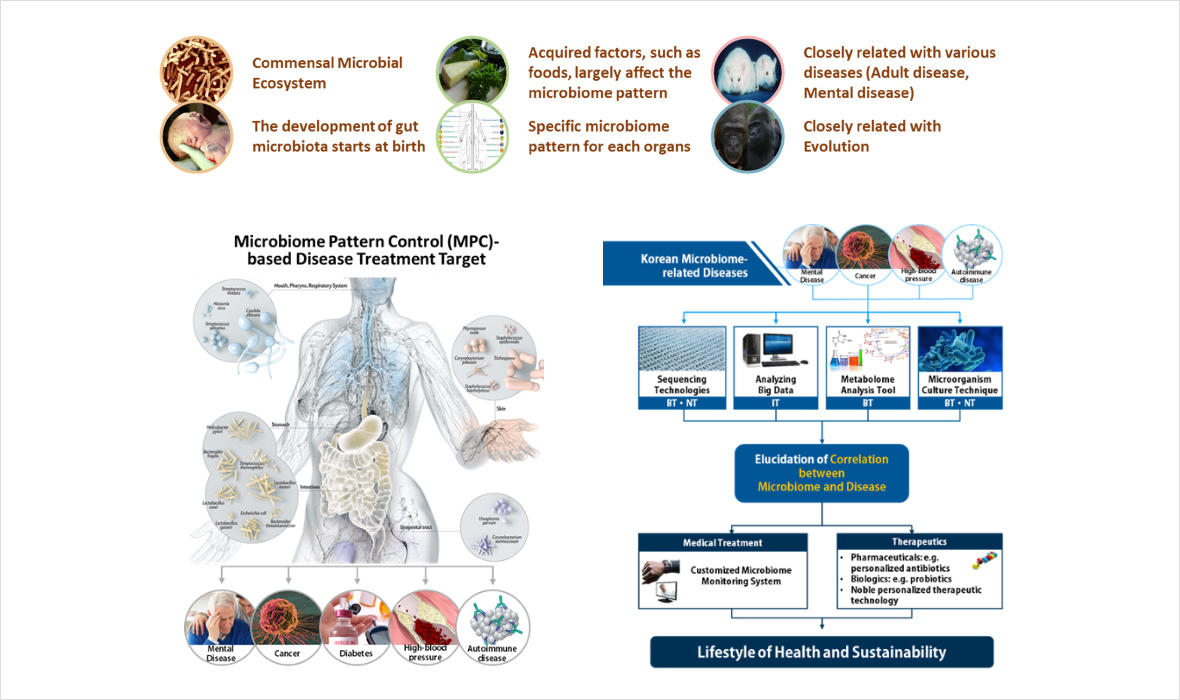 Elucidation of the Relationship between Gut Microbiomes of Different Aged Population Using Massive Scale DNA Sequencing and Bioinformatics
žTo identify which bacteria are composing the microbial community, new next-generation sequencing methods are developed including the targeted sequencing of V3-V4 region in 16S ribosomal RNA gene and the 16S ribosomal RNA gene full sequencing with intensive bioinformatics analysis.


Observation of Microbiome Pattern Change in Mouse Model
žThe gut microbiota affects on the function of other organs. The best example is that the gut microbiota promotes the level of serotonin in host body. Serotonin is signaling molecule which controls a diverse body functions including the gut movements and the animal's perceptions of resource availability. From this, we thought that the aging process is somehow controlled by components in the blood related with the different gut microbiota of young and old mouse. We tested this hypothesis using old and young mouse.


Identification of Key Molecule Engaged in Aging Process by Metabolomics Analysis of Plasma Extracts from Mouse Models
žUnder the hypothesis that the young blood mediates reversal of the old gut microbiota to the young, metabolomics will be performed about plasma extracts from each mouse model.


Systematic Understand of Microbiome Pattern Related with Aging Process
žAnalyzing microbiome data of aging mouse model, we can figure out microbial community and understand the change progress according to aging process. The multi-omics data including metatranscriptome and metatranslatome data will make us to understand deeply about expression of functional genes of microbiome in changing dynamic environment.

Key Technology
Metagenomic and metatranscriptomic analysis of gut microbiome
Microbiome pattern control system