Neuroimaging and Neuromodulation



Understanding the mechanisms and disorders of brain is considered one of the most important research areas as human society ages and become complex. One of the ultimate goal of KIHST is to understand how the brain works and overcoming its disorders. KIHST is broadening various imaging techniques to dissect the pathophysiology of various neurological or psychiatric disorders, leading the development of new technologies for imaging and neuromodulation to provide innovative diagnostic and therapeutic solutions for brain disorders.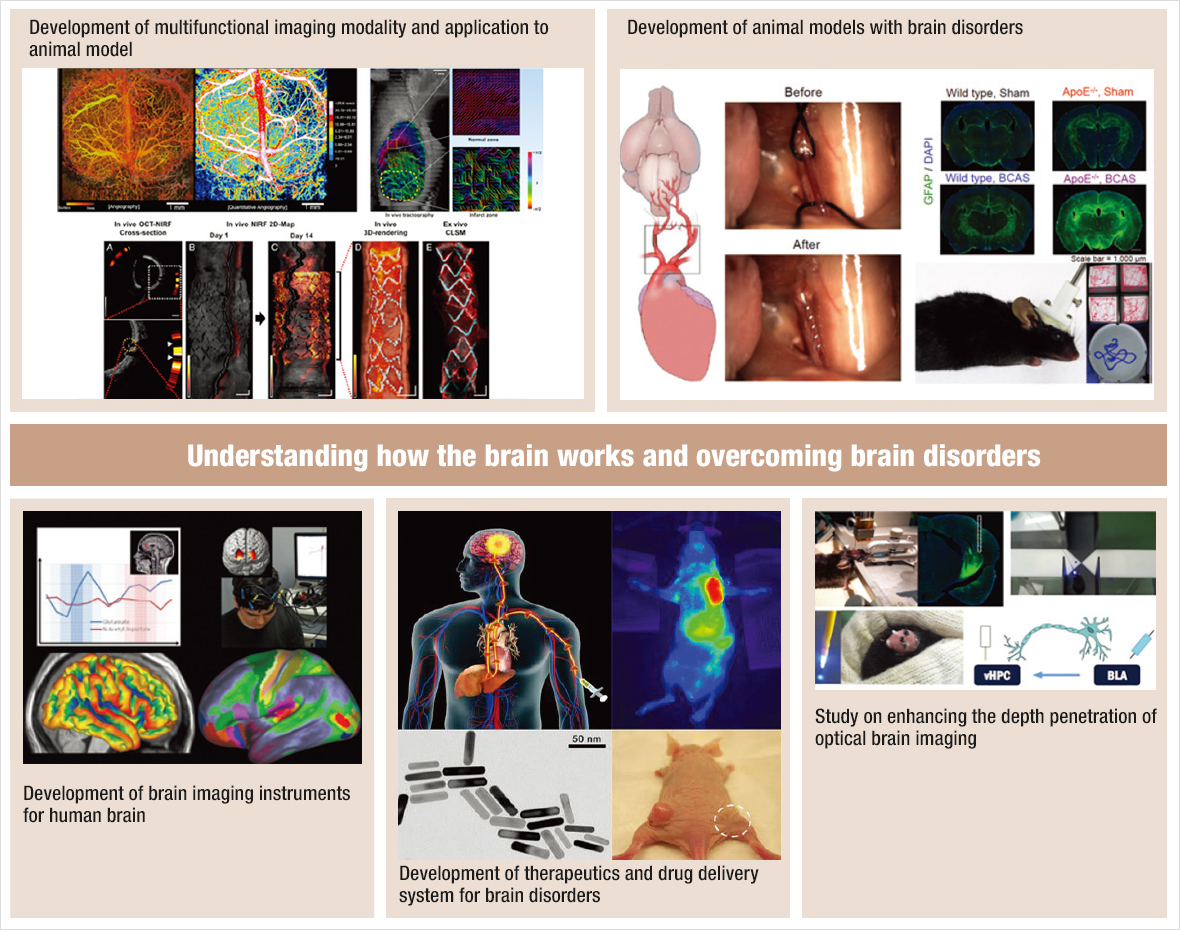 Early Diagnosis of Neurological and Psychiatric Disorders
Research focus is on developing a novel model of brain behavior and it neural correlates for early detection and intervention for brain disorders. Using various imaging techniques and analyses, we have investigated neural correlates to behavior in both various psychiatric and neurologic disorders (e.g., Alzheimer's disease, Attention-deficit/hyperactivity disorder, Schizophrenia, Internet gaming disorder, Major depressive disorder, epilepsy, vascular dementia) and healthy subjects with emotional or cognitive maltreat during development trajectory. Through collaboration with neuroscientists and clinicians, we are developing a platform for early detection of brain disorders which is difficult by conventional approaches.


Neuroimaging and Neuromodulation Techniques
We are developing novel approaches to analyze the neuro-images of patients such a MRI, PET, EEG or MEG. We also use in vivo imaging modalities such as two-photon microscopy, intrinsic optical images and voltage-sensitive dye imaging for translational research. Images are obtained from human subjects and animal models to investigate how the integrative nature of brain function can be illuminated from a micro-scale to large scale network perspectives. We also apply neuromodulation technology such as optogenetics, electrical, magnetic or focused ultrasound stimulation to restore or augment the brain functions.

Key Technology
Functional Neuroimaging
Brain Mapping
Neuromodulation
Two-photon Microscopy
Voltage-sensitive dye Imaging
Peri-vascular Drainage
Intrinsic Optical Signal Imaging
Mouse electrophysiology
Mouse MRI