NT for Advanced Opto-Electronics
Nanotechnology for next-generation information devices is enabling the creation of technologies for next-generation displays and wearable electronics in preparation for the rapidly changing information technology and market. The main research topics are molecular and material design based on multi-scale simulations, materials synthesis based laser-nanomaterial interaction, low-dimensional materials and hybrid materials, nanomaterials-based display devices, flexible/wearable electronic devices and systems. We are focusing on nanotechnology-based materials, processes, devices, and integration technologies for the realization of next-generation information display and wearable electronics.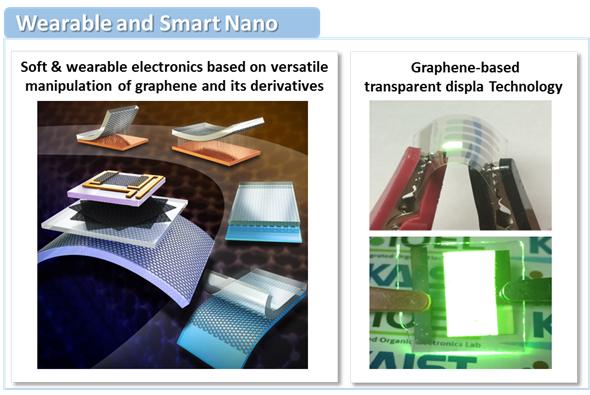 Nanotechnology for Advanced Display
Nanomaterials have attracted great attentions because of their potential to overcome the limitations in many technological fields, including electronics and displays. One of the most pursuing targets of this research activity is to realize high performance displays from atomic/molecular-scale nanomaterials. We are developing the core materials for display by introducing laser-based technology, which will be able to greatly improve or innovate the material properties beyond the limitations of current technology.


Nanotechnology for Wearable Electronics
We are taking a lead in creating innovations derived from previous academic research on novel nanomaterials and nanodevices. The goal of this research activity is to create truly useful and transferable technology in the field of wearable electronics to enhance the quality of human life and then make impact to the relevant industry as well as in the academic community. The research activities covers graphene and 2D materials and ultrathin devices and integrated circuits for the application to wearable electronics.
Key Technology
Nanofabrication
Molecular Design
Innovative Process Technology
Nanomaterial Synthesis
Advanced Display
Wearable Electronics